I'm aware that I didn't write anything yesterday
but time got away from me. I'm hoping not to use that as an excuse all the time, but it really and truly did this time. I had to spend some quality time with the family and all that jazz...you know how it is! ;)
Anyhow, I decided the next books I would talk
about are
from the Trylle Series, including Switched, Torn, and Accend by Amanda Hocking. These are in the Young Adult section and were really fun books. Once again, I had never heard of the author so I wasn't sure what to expect but was soon pulled into a world the paranormal and fantasy. Yep, my inner nerd is shining through big time now!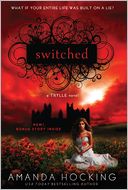 For years Wendy wondered why her mom
hated her so much, so much in fact that she tried to kill her. She always wondered why she was different, even among her brother and aunt who raised her. All that changed when she meets Finn, the good looking guardian, who introduces her to a brand new world. Wendy discovers who she really is and it is truly the stuff of fairy tales.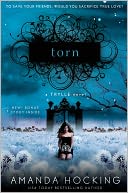 After discovering her powers, Wendy must
then learn how to use them and how to control them. At times this is funny and other times you feel like you are right there with her because the writer did such a good job with her character development and plot descriptions. Wendy meets others along her journey and must soon decide between what her heart wants and what her world needs from her.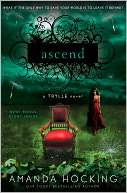 Facing an almost impossible choice, Wendy
must make a sacrifice of epic proportions. We see by the third book how she's grown from a cocky, sarcastic girl into a bold and strong leader, ready to rule. This wraps up Wendy's story and left this reader wanting desperately to read anything and everything by Amanda Hocking.
Hocking has an innate ability to weave realistic
and believable characters into her story line. I had no idea the journey she would take me on when I started reading; quite honestly, I just liked the cover of the book and though, "why not?" I was supremely pleased with my selection and the follow up books in this series. Each book helped to develop Wendy's character & story, introduced new and appealing characters, and pulled me further and further into this world of fantasy and fiction. I would give this series an 8.5 out of 10.
It's been rumored also that this series has
been
optioned for a movie in the future. Who knows if that will ever come to fruition, because that happens often and then nothing ever is produced. I hope it does though because I think it could really make for a fantastic teen sci-fi movie.
A couple other great reads by this same
author
include The Hollows Series, and the My Blood Approves Series. I've read both and really liked them as well. They're all very quick reads and once you start it's hard to put them down. Hocking has a new series, Watersong, starting with the first release of Wake in August, 2012. I, for one, cannot wait!
*Any links posted are not endorsements for that company or business, nor has that company or business payed me to use their name or likeness in any way.*